Jayme Lewis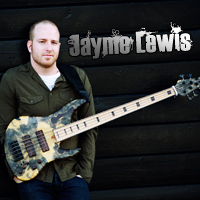 Jayme Lewis is a touring and studio bass player, clinician, teacher and composer residing in Los Angeles, California.  Jayme is also a skilled producer and engineer, producing bands & artists out of his home studio.  For more information about him and his work please visit Jayme's web page.
Jayme has produced a video in which he reviews and demonstrates the Dual Band Optical Compressor / Limiter.  Please take some time to watch the video and also check out other videos produced by Jayme on YouTube or on his website.
Mark Pirro
Since the early '90s, Mark Pirro has been present in the
international music scene as bass player for the neo psychedelic
rock band Tripping Daisy and choral symphonic rock group The
Polyphonic Spree, and has recently joined the lineup of Dallas-area band Menkena. With a keen ear and attention to detail, he naturally gravitated toward studio work, where he has acted as engineer/mixer/producer on numerous albums, as well as soundtrack and commercial projects for both cinema and TV (with one project earning an Emmy nomination for the artist/music). From there, his inquisitiveness and love of audio drove him to develop the Copperphone, a handmade microphone that delivers a uniquely vintage sound. Soon after, he started Placid Audio to oversee small batch production of the microphone, which is being used in studios around the world and by some of the premier musical artists of today.  Mark Pirro is now proud to endorse the fine products of FEA Labs.
Todd Richmond
Todd Richmond, aka "nostatic", is a bassist, writer/producer/educator based in Los Angeles. A multi-instrumentalist (with a Ph.D. in chemistry from Caltech just for good measure), he played guitar in rock and funk bands during the 80's, then moved to bass in a variety of jazz ensembles in the 90's performing up and down the west coast. In 2001 he joined the Kaz Takeda Quartet, appearing on a number of albums released in Asia and performing in Los Angeles and Japan.
Currently Todd can be found gigging tirelessly throughout southern California in his own ensemble nostatic trio +, Steely Jam (a Steely Dan tribute band), various casuals, and a musicians collective that performs pro bono shows at nursing homes around the southland. His ability to seamlessly move between jazz, funk, soul and rock along with his "big ears" keep him in-demand as both sideman and band leader. An alumni of Victor Wooten's Bass Nature Camp, Todd plays to live and lives to play, one pocket at a time.
His FEA Labs Dual Band Compressor is "always on," and is an integral part of his sound that needs to be at home anywhere from jazz ballads to roaring funk and all points in between.
---
Artist Links: 
Nostatic | Steely Jam
---
FEA Labs Products Used: 
Dual Band Compressor Limiter | Opti-FET Compressor
Bill Bodily
Bill Bodily is a bassist/multi-instumentalist who has performed with several signed bands and recently toured as substitute bassist with thrash metal giant Flotsam and Jetsam. He is the bassist for his current band – Inhumatus. He has also performed internationally as a band member of thrash metal band Toxik and the metalcore band Freya. He occasionally plays bass in Township Rebellion a Rage Against the Machine tribute.
Bill has played music all over the world including several countries in Europe and South America. Notable festival performances include Keep It True XVII (Lauda-Königshofen, Germany) and Alcatraz Metal Festival 2014 (Kortrijk, Belgium). He can understand and speak enough Spanish to be dangerous and knows the international languages of music and great beer.
Bill started off his musical career studying and playing saxophone. He was able to apply and develop that knowledge to bass, guitar, Chapman Stick, keyboard, and even drums. He is known for playing both the fretted and fretless bass and continue to work towards furthering his knowledge of these instruments, music theory and incorporating different styles into his playing. He is also capable of singing backing vocals if needed. Bill knows music talent isn't enough. He knows hard work and perseverance are what have helped established him as a musical force locally in New York, nationally and internationally as well.
The Dual-Band Compressor-Limiter has been a mainstay on my pedalboard for years. It really helps to make every note sound present and accounted for. As with the Dual-Band Compressor-Limiter, the Opti-Fet provides great compression with a darker and warmer quality to it. The Photon Fuzz is a recent addition and it sounds so gnarly and gives the perfect amount grizzle one wants in a fuzz pedal. I honestly can't picture playing without them, they are the essential building blocks to my tone.
---
Artist Relations Information
Are you an artist that uses FEA Labs products and would like to be featured on our Artists section?  If so, please visit the Artist Relations Information page to find out more about the program and its benefits.